Bringing Innovation to the Immune Health Ingredient Space
Bringing Innovation to the Immune Health Ingredient Space
Kyowa Recognized for Its Cutting-Edge Postbiotic, IMMUSE™: (LC-Plasma)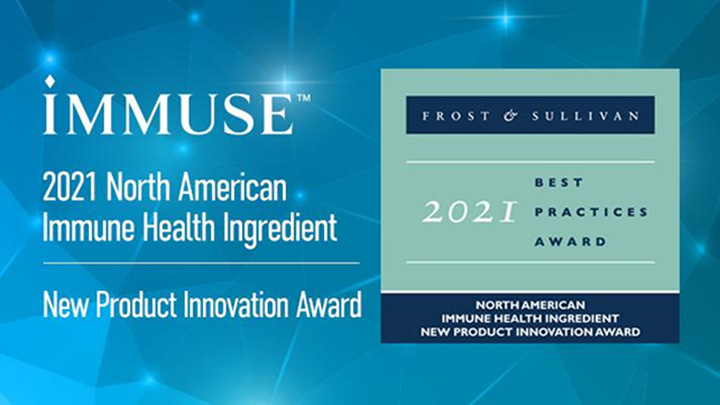 Based on its recent analysis of the immune health ingredient industry, Frost & Sullivan named Kyowa Hakko USA the 2021 North American New Product Innovator for its clinically backed, patent-protected, heat-stable postbiotic, IMMUSE™: (LC-Plasma). The novel dietary, functional food and beverage ingredient is uniquely positioned to match key customer needs, including ease of usability, flexible formulation and widespread application — on top of providing more comprehensive immune support than traditional immune health ingredients on the market.
Additionally, the global research and consulting firm awarded Kyowa 'Excellence in Best Practice' for its commitment to clinically validating the postbiotic's efficacy and safety, as well as the company's strong regulation and marketing support.
More Comprehensive Immune Support with Ease of Usability
Consumers have wised-up to the importance of maintaining a healthy, strong immune system, and are looking for clinically researched immune health ingredients that can deliver system-wide immune support safely year-round.
Frost & Sullivan analysts observe how safety problems associated with live microbial cells led the industry to look toward alternatives such as paraprobiotics and postbiotics.
"Given the increase in demand, supplement and functional food formulators seek novel ingredients to boost consumers' immunity and health and offer ease of use," said Smriti Sharma, Senior Industry Analyst. "Probiotics support immune health, but challenges remain in terms of their stability in end-product formulations. Probiotics are also sensitive to the high temperature and water activity of food products, presenting application challenges."
In a crowded market space, IMMUSE stands out as a cutting-edge postbiotic (nonviable microbes) with a novel mechanism of action for more comprehensive immune support system-wide. The unique, heat-killed strain of lactic acid bacteria has been clinically shown to safely activate a rare subset of immune cells known as plasmacytoid dendritic cells (pDCs), which act as leaders of the immune system – recruiting, stimulating and directing the activity of multiple key immune cells responsible for innate and adaptive immunity.
Frost & Sullivan's analysis indicates that IMMUSE™: is well-positioned to cater to changing consumer demand as the industry seeks ingredients that offer comprehensive immune support benefits with ease of usability.
Demand For Functional Food and Beverage Ingredients
Frost & Sullivan also noted that IMMUSE is uniquely positioned to meet the increasing demand for functional food and beverage ingredients that offer additional health benefits. Kirin Holdings, Kyowa Hakko's parent firm, has been using the ingredient in Japan since 2012, where products with IMMUSE have achieved "Foods with Functional Claims for Immune Health" status.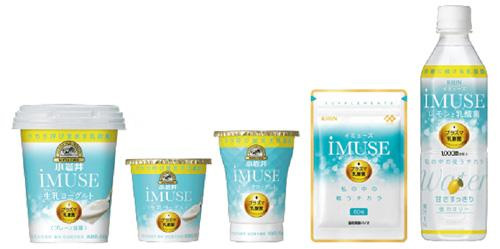 There are now numerous finished products containing LC-Plasma available in Japan, including tablets, gummies, functional beverages, and yogurt. Frost & Sullivan notes that this indicates ease of formulation, potential application versatility, and heat stability compared to probiotics and other immune health ingredients.
Additionally, the novel immune health ingredient has self-affirmed Generally Recognized as Safe (GRAS) status in the United States, and is vegetarian, non-GMO and allergen-free, matching the rising demand for clean-label products.
Excellence in Best Practices
Backed by 29 published studies, including 14 human clinical trials, IMMUSE is one of the most comprehensively studied and clinically validated postbiotic for immune support, meeting growing consumer demands for evidence-based immune health products.
Frost & Sullivan identifies Kirin Holdings' commitment and investment toward clinically validating the ingredient's efficacy and safety as a best practice in the industry. The ingredient offers many scientifically backed health benefits that position it firmly in the competitive immune support ingredients space.
"Strong science, regulatory, and marketing support are the unique selling propositions that create differentiation for Kyowa Hakko in an otherwise competitive health ingredient industry."
- Smriti Sharma,
Frost & Sullivan
Being part of Kirin Holdings, a fermentation technology leader, Kyowa Hakko is able to leverage years of experience and expertise in research and development, as well as understanding consumer demand.
Kyowa's quality-first approach drives all processes, including product development, manufacturing, marketing and sales, ensuring that ingredients meet the highest purity, quality, science and reliability standards. Furthermore, the company does not use any organic solvents in the upstream and downstream fermentation processes.
In addition to formulation advisory, Kyowa Hakko provides regulatory guidance on labeling functional claims on finished products, as well as exceptional marketing and technical support – excelling in both the customer purchase and ownership experiences.
About Frost & Sullivan
For six decades, Frost & Sullivan has been world-renowned for its role in helping investors, corporate leaders and governments navigate economic changes and identify disruptive technologies, Mega Trends, new business models and companies to action, resulting in a continuous flow of growth opportunities to drive future success.
Each year, Frost & Sullivan presents the New Product Innovator award to the company that has developed an innovative element in a product by leveraging leading-edge technologies. The award recognizes the value-added features/benefits of the product and the increased return on investment (ROI) it gives customers — which, in turn, raises customer acquisition and overall market penetration potential.
Frost & Sullivan Best Practices awards recognize companies in a variety of regional and global markets for demonstrating outstanding achievement and superior performance in areas such as leadership, technological innovation, customer service, and strategic product development. Industry analysts compare market participants and measure performance through in-depth interviews, analysis, and extensive secondary research to identify best practices in the industry.