High Praise for Japan's First Foods with Functional Claims for Immune Health
High Praise for Japan's First Foods with Functional Claims for Immune Health
The Scientists Behind iMUSE Received the 2020 Food Immunology Award for Applied Research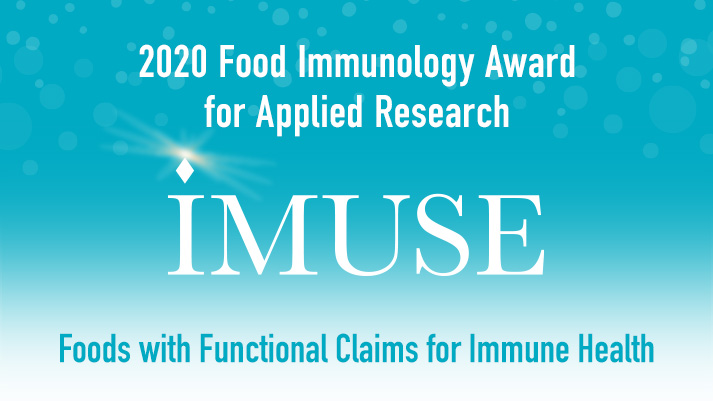 In August of 2020, Kirin Holdings Company Limited's branded iMUSE (IMMUSE™ in other countries) achieved Japan's first-ever "Foods with Functional Claims for Immune Health," receiving the Food Immunology Award for Applied Research from the Japanese Association for Food Immunology shortly after.
Rising Demand for Functional Foods
As consumers have become more health conscious, the demand for functional food products has increased – especially in the immune health category. However, an ingredient's health benefits must be scientifically validated for a product to label itself as a functional food or beverage. iMUSE stands alone as Japan's first branded ingredient to achieve the "Foods with Functional Claims for Immune Health" label on its products.
About the Food Immunology Award for Applied Research
Given to Kirin Holdings and Koiwai Dairies, the Food Immunology Award recognizes the research team's outstanding achievement in applied research in food immunology for their findings on LC-Plasma – the first strain of lactic acid bacteria clinically shown to directly activate a specific subset of immune cells, known as pDCs (plasmacytoid dendritic cells), that act as leaders of the immune system.
The Japanese Association for Food Immunology, made up of food scientists and medical scientists from universities, research institutes and major food manufacturing companies, was established in 2004 to clarify the immunomodulatory function of foods, as well as conduct academic activities related to the immune functions of food.
One of the Association's major goals: to achieve immune function labeling, which has widespread impact.
Researchers at Kirin discovered (and repeatedly showed) that LC-Plasma, a unique strain of lactic acid bacteria, activates pDCs and exhibits immunostimulatory effects (such as type 1 IFN production) in healthy individuals. Their extensive research and validation of LC-Plasma's immune health benefits greatly contributed to the official registering of iMUSE as a functional ingredient on product labeling in Japan.
The Food Immunology Award for Applied Research is given to researchers or research groups that:
Have made outstanding achievements in the field of applied research in food immunology.
Developed and promoted foods that contribute to the maintenance and improvement of human health.
Are expected to make contributions to the future application of food immunology.
Kirin Group's Health Science Initiative
As part of the Kirin Group Vision 2027, which sets out broad goals of creating share value (CSV) across the world of food and beverages to pharmaceuticals and becoming a global leader in CSV, the Group launched a new Health Science domain to help people stay fit and healthy by leveraging advanced fermentation and biotechnology Kirin has amassed.
Through many years of research into natural ingredients, cells and microorganisms, the Kirin Group has succeeded in discovering numerous materials that contribute to health and well-being, such as Lactococcus lactis strain Plasma (LC-Plasma). The Health Science domain will utilize these unique materials to address the social issues of health and well-being.
Jointly developed across Group companies, iMUSE is authorized to state that it provides benefits to the human immune system on product labels (a first for the Japanese food industry), and is offered in a wide variety of applications to meet rising consumer demand for immune health products.
Discover the Science Behind IMMUSE™