Kyowa Hakko Announces "IMMUSE™ LC-Plasma: A Unique Approach to Immune Health" Live Webinar
Join experts on Wednesday, October 7th at 2:00pm EDT for a lively discussion on Kyowa Hakko's new IMMUSE™ U.S. ingredient launch, immune health market trends and the discovery of paraprobiotics for immune health.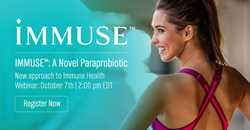 Leading international health ingredient manufacturer Kyowa Hakko is excited to announce an interactive webinar will be held on Wednesday, October 7th at 2:00pm EDT with Natural Products Insider to discuss, and educate, on the newest approach that supports the immune system.

Kyowa Hakko's explosive U.S. launch of unique, patented dietary supplement ingredient IMMUSE™ is opening doors for the discovery of paraprobiotics in relation to immune health. IMMUSE™, a Lactococcus lactis strain Plasma discovered by KIRIN, is supported by ten human trials and acts uniquely by activating pDC (plasmacytoid dendritic cells), better known as the "commander-in-chief" of the immune system. pDC has been shown to activate pivotal cells such as NK, Killer-T, Helper-T, and B cells, providing broad range immune support*.

Dive into an eye-opening webinar moderated by Todd Runestad, Senior Staff Writer of Informa Health & Nutrition, along with presenters Elyse Lovett, MS, MBA, Senior Marketing Manager of Kyowa Hakko U.S.A Inc, Danielle Citrolo, PharmD, Director of Scientific and Regulatory Affairs of Kyowa Hakko U.S.A Inc., and Shintaro Ichikawa, Ph.D, Director of Technical Affairs of Kyowa Hakko U.S.A Inc.

The featured speakers will discuss today's booming immune health market, provide insight on how to stand out in a crowded industry, and will also educate on the unique mechanism of action of Lactococcus lactis strain Plasma (LC-Plasma), the importance of pDCs with the immune system, and the functional and clinically studied health benefits of IMMUSE™, a novel paraprobiotic.

An interactive Q+A session with a scientific researcher from KIRIN will follow.

To register online for "IMMUSE™ LC-Plasma: A Unique Approach to Immune Health" head to: NaturalProductsInsider.com.

For media inquiries, please contact Sara White at sara@adinnyc.com or 914.621.1323

About Kyowa Hakko USA
Kyowa Hakko USA is the North & South American office for Kyowa Hakko Bio Co. Ltd., an international health ingredients manufacturer and world leader in the development, manufacturing, and marketing of pharmaceuticals, nutraceuticals and food products. For more information visit Kyowa-USA.com.