Kyowa Hakko USA Announces the Appointment of Dr. Colin Hill to the Scientific Advisory Board of Award-Winning Postbiotic IMMUSE™
With an impressive background in mining the microbiome for novel therapies, Prof. Hill helped with the definition of a postbiotic as a part of ISAPP.
Kyowa Hakko adds distinguished professor Dr. Colin Hill to the IMMUSE™ Scientific Advisory Board to further advance the understanding and education of postbiotics and the definition of postbiotics by ISAPP (International Scientific Association for Probiotics and Prebiotics). Dr. Hill's role will include participating in group discussions as a postbiotic expert and providing scientific group evaluation and feedback.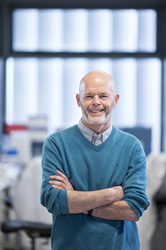 As an international health ingredients manufacturer and world leader in the development, manufacturing, and marketing of pharmaceuticals, nutraceuticals, and food products based on science, Kyowa Hakko adds significant value to its customers by having world-class experts to disseminate complex information.
Karen Todd, MBA, RD, Vice President Global Brand Marketing, Kyowa Hakko USA, Inc., commented, "We are privileged to have someone with such extensive knowledge and expertise in postbiotics join us to add his uniquely scientific perspective to our work with IMMUSE™. Dr. Hill will help lead Kyowa Hakko's future efforts in postbiotics".
Hill served on the ISAPP board of directors since 2009 and was president from 2012-2015. He supported ISAPP's efforts to advance the science of probiotics through his scientific insights and leadership: he was the lead author on the landmark ISAPP consensus paper on probiotics, participated in the ISAPP consensus panel on postbiotics, led numerous ISAPP discussion groups during the ISAPP annual meetings, and co-authored 10 ISAPP publications. His ISAPP colleagues knew him for his exceptional curiosity and willingness to push boundaries.
"We are very much looking forward to working with Dr. Hill as we are only beginning to discover the many opportunities that postbiotics hold for human health,'' added Todd.
About IMMUSE
IMMUSE™ is a postbiotic that delivers a new, breakthrough approach to broad range immune support*. As a clinically researched immune activator* supported by 29 published studies, including 14 human trials, IMMUSE™ proactively supports the immune system through a novel method of action that activates pDC (plasmacytoid dendritic cells) *. The pDC, a rare type of immune cell, functions as the a key leader of the immune system and has been shown to activate pivotal cells such as NK, Killer-T, Helper-T, and B cells, for a more comprehensive approach to immune support*. Its unique mechanism of action, discovered by Kyowa Hakko's parent company Kirin Holdings Co., Ltd., is opening doors for discovering postbiotics concerning immune health.
About Kyowa Hakko USA
Kyowa Hakko USA is the North & South American office of Kyowa Hakko Bio Co. Ltd., an international health ingredients manufacturer and world leader in the development, manufacturing, and marketing pharmaceuticals, nutraceuticals, and food & beverage products. Kyowa is the maker of branded ingredients, including IMMUSE® LC-Plasma, Eyemuse® Lacticaseibacillus paracasei KW3110, Cognizin® Citicoline, Pantesin® Pantethine, Setria® Glutathione, as well as L-Alanyl-L-Glutamine. For more information, visit www.kyowa-usa.com.
About Dr. Hill
Dr. Hill has a Ph.D in molecular microbiology and is Professor of Microbial Food Safety in the School of Microbiology at University College Cork, Ireland. He has been an SFI Principal Investigator since 2002. He is also a Principal Investigator in APC Microbiome Ireland. His main interests are in mining the microbiome for novel therapies, including probiotics, postbiotics, bacteriocins and bacteriophage. He has published more than 650 peer-reviewed papers and holds more than 25 patents in this area (ISI H factor of 93, Google H factor of 125). In 2005 Prof. Hill was awarded a D.Sc. by the National University of Ireland in recognition of his contributions to research. In 2009 he was elected to the Royal Irish Academy, the highest honor for an Irish academic. In 2010 he was elected to the American Academy of Microbiology and together with his colleagues Prof. Gerald Fitzgerald, Prof. Paul Ross and Dr Catherine Stanton he was awarded the Metchnikoff Prize in Microbiology. He served as President of ISAPP (International Scientific Association for Prebiotics and Probiotics) from 2012 to 2015.
Media interested in setting up an interview with Dr. Hill or Karen Todd, please contact Giselle Chollett: giselle@adinnyc.com or 917.386.7116.