Kyowa Hakko USA Announces the Appointment of Dr. Heather Moday as an Educational Partner for IMMUSE™ LC-Plasma
With a special interest in immune system dysfunction, including autoimmunity, allergy, and the stress-immune connection, Dr. Moday puts IMMUSE™, an award-winning postbiotic, at the forefront of ingredients to look out for in nutritional supplements
Kyowa Hakko, an international health ingredients manufacturer and world leader in the development, manufacturing, and marketing of pharmaceuticals, nutraceuticals and food products, is excited to announce a new educational partner, Dr. Heather Moday, a board-certified Allergist, Immunologist and Integrative and Functional Medicine Physician.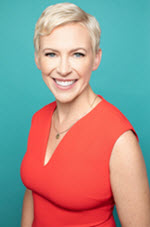 "We are so pleased to have such a knowledgeable immunity expert working with us to support our educational efforts for IMMUSE™ commented Karen Todd, MBA, RD, Vice President Global Brand Marketing, Kyowa Hakko USA, Inc., "Dr. Moday is able to explain the complexities of the immune system and the importance of immune system balance in clear and concise ways that are helpful in understanding what a postbiotic is and how an ingredient like IMMUSE™ can support immune system health."
In her book "The Immunotype Breakthrough," Dr. Moday explains that, for the most part, what our immune systems truly need is not boosting but balancing. She identifies four distinct immunotypes and gives actionable steps we can each take to prioritize our immune system to elevate our overall health. "The immune system affects every aspect of our health yet there's no test to see if it's functioning as it should," says Dr. Moday. "That's why education is key and why I'm so grateful to work with a science-based company like Kyowa Hakko that prioritizes education."
Dr. Moday will focus on educating fellow physicians and the general public on IMMUSE™, a unique patented strain of Lactococcus lactis strain Plasma, characterized as a heat-killed lactic acid bacterium (postbiotic), and that stimulates the body's natural defenses* and supports year-round health* when taken regularly.
About IMMUSE

IMMUSE™ is a postbiotic that delivers a new, breakthrough approach to broad range immune support*. As a clinically researched immune activator* supported by 29 published studies, including 14 human trials, IMMUSE™ proactively supports the immune system through a novel method of action that activates pDC (plasmacytoid dendritic cells)*. The pDC, a rare type of immune cell, functions as the a key leader of the immune system and has been shown to activate pivotal cells such as NK, Killer-T, Helper-T, and B cells, for a more comprehensive approach to immune support*. Its unique mechanism of action, discovered by Kyowa Hakko's parent company Kirin Holdings Co., Ltd., is opening doors for discovering postbiotics concerning immune health.
About Kyowa Hakko USA

Kyowa Hakko USA is the North & South American office of Kyowa Hakko Bio Co. Ltd., an international health ingredients manufacturer and world leader in the development, manufacturing, and marketing pharmaceuticals, nutraceuticals, and food & beverage products. Kyowa is the maker of branded ingredients, including IMMUSE® LC-Plasma, Eyemuse® Lacticaseibacillus paracasei KW3110, Cognizin® Citicoline, Pantesin® Pantethine, Setria® Glutathione, as well as L-Alanyl-L-Glutamine. For more information, visit www.kyowa-usa.com.
About Dr. Heather Moday

Dr. Moday is the owner of the Moday Center for Functional Medicine and Integrative Medicine, which offers comprehensive medical and nutritional programs for adults that focus on preventing and treating chronic diseases to achieve optimal wellness. She has a special interest in immune system dysfunction, including autoimmunity, allergy, the stress-immune connection, Chronic GI dysfunction, cognitive decline, and mood disorders. Dr. Moday received her MD from Tulane Medical School in New Orleans and completed a residency in Internal Medicine and a fellowship in Allergy and Immunology at Montefiore/ Albert Einstein Medical center in New York City. After years of working as an allergist in private practice, she completed a fellowship in Integrative Medicine at the Arizona Center of Integrative Medicine. She is also a certified practitioner through the Institute for Functional Medicine.
Media interested in setting up an interview with Dr. Moday or Karen Todd, please contact Giselle Chollett: giselle@adinnyc.com or 917.386.7116.