Kyowa Hakko Announces Glaxon's Limited-Time Offer Becomes A Permanent Feature
After a resoundingly successful limited-time offering, Glaxon™ has now added Kyowa Hakko's IMMUSE™ to all SuperGreens Immune formulas.
NEW YORK (PRWEB) OCTOBER 26, 2022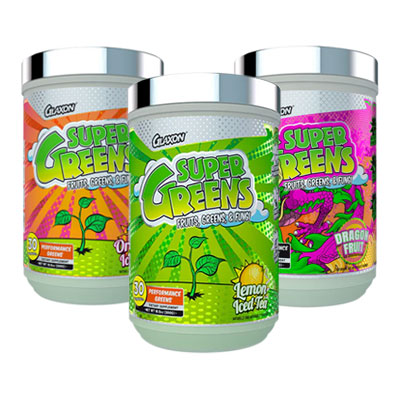 Glaxon™, producer of sports nutrition dietary supplements, launched this summer a SuperGreens Enhanced Immune Edition that, in addition to the power of Glaxon™'s trademarked Supershrooms® Organic Mushroom Blend, included IMMUSE™, a postbiotic that provides immune support at a cellular level - both of which support the immune systems of its customers.
"The inclusion of IMMUSE™ was so successful that we decided to soft launch the SuperGreens Enhanced Immune Edition formula in all flavors: Lemon Iced Tea, Orchard Iced Tea, BurstBerry Iced Tea, Dragon Fruit, and the original, limited-time edition offering, Blueberry Açaí," said Joey Savage, the visionary and formulator of SuperGreens Enhanced Immune Edition.
With a consumer base increasingly interested in immune health, the addition of IMMUSE™ was a logical next step for Glaxon™. Produced by Kyowa Hakko, an international health ingredient and pharmaceutical manufacturer, IMMUSE™ is a thoroughly researched immune activator, with 29 published studies and over ten years of research supporting its mode of action. Specifically, IMMUSE™ is a branded form of the LC-Plasma strain of lactic acid bacteria. These bacteria can activate plasmacytoid dendritic cells (pDCs), which, once triggered, circulate throughout the body mobilizing NK Cells, killer T cells, helper T cells, and B Cells for more comprehensive immune support.
SuperGreens Enhanced Immune Edition is loaded with antioxidants, superfoods, fiber, and enzymes to support the body further. For instance, the Supershrooms® Organic Mushroom Blend is designed to enhance mental focus, athletic support performance and provide beta-glucans to help with healthy white blood cells.*
Karen Todd, MBA, RD, Vice President Global Brand Marketing, Kyowa Hakko USA, Inc., commented, "Glaxon's decision to include IMMUSE™ in all their SuperGreens formulations is indicative of their product innovation and the increasing consumer demand for effective, science-based immune ingredients."
Through the addition of IMMUSE™ into the Glaxon™ SuperGreens formulations, Kyowa Hakko is joining a market that is expected to hit USD 11.5 billion by 2030. SuperGreens Immune formulas can be purchased via Glaxon™ or GNC. To learn more about IMMUSE™, go to https://immusehealth.com/.
*The Food and Drug Administration has not evaluated these statements. This product is not intended to diagnose, treat, cure or prevent any disease.
About IMMUSE: IMMUSE™ is a postbiotic that delivers a new, breakthrough approach to broad range immune support. As a clinically researched immune activator supported by 29 published studies, including 14 human trials, IMMUSE™ proactively supports the immune system through a novel method of action that activates pDC (plasmacytoid dendritic cells). The pDC, a rare type of immune cell, functions as a key leader of the immune system and has been shown to activate pivotal cells such as NK, Killer-T, Helper-T, and B cells, for a more comprehensive approach to immune support. Its unique mechanism of action, discovered by Kyowa Hakko's parent company Kirin Holdings Co., Ltd., is opening doors for discovering postbiotics concerning immune health.
About Kyowa Hakko USA: Kyowa Hakko USA is the North & South American office of Kyowa Hakko Bio Co. Ltd., an international health ingredients manufacturer and world leader in the development, manufacturing, and marketing pharmaceuticals, nutraceuticals, and food & beverage products. Kyowa is the maker of branded ingredients, including IMMUSE™ LC-Plasma, Eyemuse™ Lacticaseibacillus paracasei KW3110, Cognizin® Citicoline, Pantesin® Pantethine, Setria® Glutathione, as well as L-Alanyl-L-Glutamine. For more information, visit http://www.kyowa-usa.com.
About GLAXON™: GLAXON™ is a brand of mold breaking dietary supplements with an emphasis on cross category lifestyle solutions beyond just the active nutrition space. GLAXON™ is one of the fastest growing brands in the space that has become an emerging leader in market innovation. Leveraging growth by disruptive thought-provoking branding, product education, and transparent supplements that provide lifestyle solutions. GLAXON™ is headquartered in a 100,000 sq ft facility of product incubation including: design, formulation, manufacturing, marketing, and sales. GLAXON™ headquarters is uniquely built to fast-track product concepts from R&D to fully finished products all under one roof remaining true to the company mantra, "Made with Real Science". GLAXON™ can be found at GNC, GLAXON.com, and select retailers globally. For more information visit GLAXON.com or find us on Instagram and TikTok.